1.75mm TitanX - Black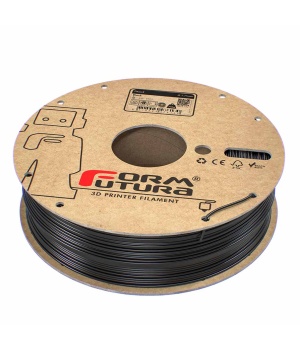 TitanX is a high-end engineering filament with ABS (acrylonitrile butadiene styrene) as the main component. The formulation of TitanX is enhanced with added polymers, binding agents and impact modifiers, resulting in an engineering filament that combines exceptional mechanical properties with optimized interlayer adhesion and virtually no warping.
TitanX is used by industries worldwide for creating functional prototypes and end-use parts.
Key features
Strongly improved mechanical properties

>65% more impact resistant than regular ABS

Minimal warping, excellent interlayer adhesion, and seamless build plate adhesion
Precise 3D printing with remarkable fine detail
Vicat softening temperature of 97˚C
Compatible with Helios Support for complex multi-extrusion 3D printing
Nearly odourless processing and no unpleasant styrene smell when being 3D printed
Applications
Functional prototyping
End-use parts
Fit testing
Engineering parts
Short-run manufacturing
General printing guidelines *
| | | |
| --- | --- | --- |
| Nozzle size: ≥ 0.15mm | Layer height: ≥ 0.1mm | Experience level: Beginner |
| Print temp: ± 240 - 265° C | Fan speed: 0-30% | |
| Heat bed: ± 70 - 100° C | Enclosure needed: Recommended | |
*) Above displayed settings are meant as guidance to find your optimal print settings. These ranges in settings should work for most printers, but please feel free to experiment outside these ranges if you think they suit your printer. There are many different types of printers, hot-ends, and printer offset that make it extremely difficult to give an overall one-size-fits-all setting.
Strong adhesion
As TitanX is an engineering-grade material, it is recommended to use an adhesive on your build plate as a protective layer.
Compliance *
This filament is compliant with the below-listed directives and regulations.
RoHS directive 2011/65/EC
REACH directive 1907/2006/EC
*) This declaration of conformity to directives and regulations is prepared according to our current standard of knowledge and may be amended if new cognitions are available and applies only to the above-described products.