1.75mm EasyFil ePLA - Light Blue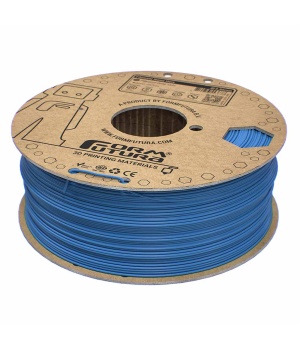 EasyFil ePLA is our go-to PLA filament. It is not only a very affordable PLA but also very easy to 3D print with high accuracy and high aesthetic surface quality. The mechanical properties of EasyFil ePLA are far above average.
Important key features
Available in an extensive range of colours.
Very easy to 3D print.
We have improved mechanical properties.
Suitable applications:
Functional prototyping.
Creating visualization aids.
3D printing manufacturing aids.
Making detailed concept models.
What does the e stand for in EasyFil ePLA?
Forget about E = mc2. Let's redefine e through economies of scale effect...:-)
e = economically priced, European quality filament, environmentally friendly packaged, easy to 3D print, enjoy 3D printing!
General printing guidelines *
| | | |
| --- | --- | --- |
| Nozzle size: ≥ 0.1mm | Layer height: ≥ 0.05mm | Enclosure needed: No |
| Print temp: ± 200 - 220° C | Fan speed: 50-100% | Experience level: Beginner |
| Heat bed: ± 50 - 60° C | Adhesive: EasyFil Nr. I, DimaFix | |
*) Above displayed settings are meant as guidance to find your optimal print settings. These ranges in settings should work for most printers, but please feel free to experiment outside these ranges if you think they suit your printer. There are many different types of printers, hot-ends and printer offsets that make it extremely difficult to give an overall one-size-fits-all setting.
Compliance *
This filament is compliant with the below-listed directives and regulations.
RoHS directive 2011/65/EC
REACH directive 1907/2006/EC
*) This declaration of conformity to directives and regulations is prepared according to our current standard of knowledge and may be amended if new cognitions are available and applies only to the above-described products.
Available colours for ePLA:
Light Blue or Light Green or Light Grey or Luminous Yellow or Natural or Anthracite Grey or Beige Brown or Blue Lilac or Grey Aluminium or Heather Violet or Iron Grey or Khaki Grey or Light Ivory or Luminous Bright Orange or Luminous Green or Pearl Bronze or Pearl Gold or Pure Orange or Signal White or Signal Yellow or Snow White or Squirrel Grey or Traffic Black or Traffic Green or Traffic Red or Traffic Yellow or Turquoise Blue or Ultramarine Blue or White Aluminium or Yellow Green